The History Visit Books
These stories are about a brother and sister from America who tour the three countries with English siblings, Philip and Barbara, and their mother, Mrs. Pitt.

1. John and Betty's History Visit 1910
2. John and Betty's English History Visit 1912
3. John and Betty's Scotch History Visit 1912
4. John and Betty's Irish History Book 1914

Cloth. Beige and red seen. Earlier books have two flags on the cover whereas the later books have one flag on the cover. Numerous photographs are noted in each volume. Dust jacket match the book cover. 8" x 5.5".

1. All books were written by Margaret Williamson and published by Lothrop, Lee and Shepard
2. Book #1 was released as a non series book. In 1912 when it was reprinted and the title changed, the first two titles (#2, #3) were then noted as a series.
3. Books #1 and #2 are identical except for the title and a couple of sentences on the last page of text. See below.
4. The date of publication on the copyright page is not necessarily indicative of the actual publishing date. The books listed in the back ads can give a more accurate representation of the date of the book.

When John and Betty's History Visit was written, there was no plan to write a second book.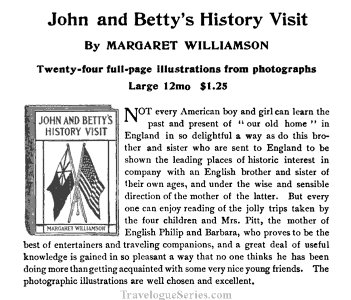 When the first title was published, there was no reference to the second title (Scotch History Visit). In 1912 the English History volume does note the Scotch History book on the last page of text. See below.
From John and Betty's History Visit

From John and Betty's English History Visit

#1

#2

#3

#4

Dust Jacket