Percy Family/Our Travelling Party
The Percy Family Series is a five title series in which Mr. Perry Percy, his friend Tenant and Percy's children Walter and Minnie travel through Europe. The books are moralistic with a geographical/historical background. Further adventures of the group were described in the six volume Walter's Tour in the East Series.
Andrew F. Graves did all the first editions. Later the titles were published by Graves and Young. Graves and Young began their publishing life in March, 1863 when Henry A. Young joined Graves. In 1868 the partners split up with Andrew F. Graves retaining the Percy Family copyrights. These facts explain why there can be an 1865 Graves and Young edition and 1859 and 1871 Andrew F. Graves' printings.
1865 advertisement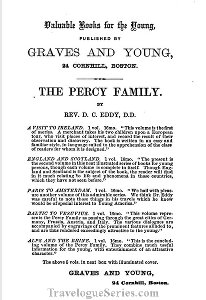 The earlier Graves Company was at 24 Cornhill in Boston as was Graves and Young. The later Andrew F. Graves was at 20 Cornhill.

Versions of this series were published by Andrew F. Graves in 1859, 1860, 1861, 1863, 1868 (in addition to undated formats). Graves and Young published the series in 1864 and 1865. Most of the earlier book were co-published with Sheldon and Co., a New York publisher.

When first published by Graves these books cost 50 cents each. By 1876 the titles were being sold individually for $1.00 and in a boxed set for $5.00

The Percy Family:

1. Visit to Ireland (1859 Copyright). First edition title page has 1859 at the base.
2. England and Scotland 1859
3. Paris to Amsterdam (1860 Copyright) First edition title page has 1860 at the base.
4. Baltic to Vesuvius (1860 Copyright)
5. Alps and the Rhine 1860

All of these books are 7 x 4.5 and have numerous line drawn engravings. The artist(s) are unknown.
1860 Andrew F. Graves

1865 Graves and Young


Andrew F. Graves (ca. 1868)
Three later Andrew F. Graves editions have been seen. The two earlier books are blind stamped. The later blind stamped cover volume has the same spine as the latest decorated cover version. I have seen dated and undated title pages in the blind stamped books. The earlier books date from about 1868.
1868

Undated- probably pre-1871

Approximately 1870


D. Lothrop and Company published a reprint of the Percy Family Series beginning late in 1881(copyright 1882). It was renamed Our Travelling Party or the Percy Family Abroad. The set was sold for $5.00. The books are 7.25 x 5.

1. Visit to Ireland
2. England and Scotland
3. Paris and Amsterdam
4. Baltic to Vesuvius
5. Alps and the Rhine


Ira Bradley and Company

Bradley published two formats of this series. The earlier book's cover is the same as the Lothrop publication. This firm was in business between 1876 and 1890. I am unable as of yet to exactly date these formats.
Later Ira Bradley publication-date unknown


Bradley and Woodruff, Boston
This company succeeded Ira Bradley and Co. in 1890. It was in business until 1893 when it was succeeded by A. I Bradley. Our Travelling Party volumes are 7 x 5 and are part of the multivolume, multi-authored publisher's series- Companion Series.