Young Americans in Japan Series
Edward Greey's Travelogue books

Edward Greey (1835-1888) was born in Sandwich, England. He served in the military and was stationed in China. Thereafter he was an attaché to the English legation in Japan. He moved to New York City in the late 1860's. His love for the culture and history of Japan and China was translated into the books he wrote about Japan as well as his subsequent career in the Chinese and Japanese arts. In 1888 he committed suicide with a gunshot to the head. Of note is that during that last year he had lost approximately 100 pounds. He was in financial straits and whether the money issues, a significant illness or a combination of he two caused his death is quite unknown.

The three travelogue books follow the adventures of the Jewett family (Professor and Mrs. Jewett and his three children (Johnnie, Fitz and Sallie) and their friend Oto Nambo , a young Japanese student. Each book has more than 150 illustrations.

Several firms published these titles.

Lee and Shepard was the initial publisher of the three Greey books. They were first published in the Young Folks' Trophies of Travel Series. The books were published in boards ($1.75) and in cloth ($2.50)
This entire series included six books:
The Wonderful City of Tokio 1882 (Greey)
Young Americans in Japan 1882 (Greey)
Our Boys in India by Harry W. French 1882
Drifting Around the World by Capt. Charles Hall 1880
| | |
| --- | --- |
| | |


Only the cloth covered books have this fancy illustrated end paper.


In 1883 there were two new additions:
Our Boys in China by Harry W. French 1883
The Bear Worshippers of Yezo 1883 (Greey)


The Trophies of Travel was no longer a Lee and Shepard designated series by the end of 1883.
Here is an ad for the Greey books in that Trophies of Travel Series. The ad is from September, 1883.
The board covers of the three books are shown.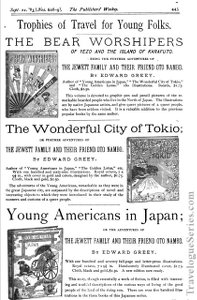 By 1887, Lee and Shepard was calling the three books Edward Greey's Japanese Series. No title or format changes were noted .

In 1892 the covers of the Greey books were unchanged but the titles were now advertised with some name changes.
Young Americans in Japan
Young Americans in the Wonderful City of Tokio
Young Americans Among the Bear Worshippers


C. E. Brown and Company
In 1892 a multivolume series called the Roundabout Books was published by C. E. Brown and Co. This set included a number of books about travel and adventure. It contained travelogue books by Daniel Eddy, Harry W. French and Edward Greey. After 1892 more books were added to the series. The Greey Books are #5, 6, and 7. The Roundabout books are published in two formats. Lithographed covers cost $1.25 and red cloth and silver were priced at $1.75.
5. Young Americans in Japan
6. Young Americans in Tokio
7. Young American in Yezo

This is an 1893 ad for the Roundabout Books. This ad does not mention the lithographed illuminated board covers and that format has not been seen for the Greey books (as of yet). Note the other travelogue books in this series (Eddy's Travels, French's Our Boys).


International Book and Publishing Company, New York
This firm published the Greey titles in 1899 in board covers. The cover pictures are the same as the C. E. Brown illuminated board cover books of the same title. 10" x 8".
Wonderful City of Tokio
Young Americans in Japan
Bear Worshippers of Yezo (Book cover notes title as Young Americans in Yezo)


John R. Anderson published the three Greey books in 1902. These book have not been seen.
The first title is sightly different:
Our Boys in Japan (Young Americans in Japan)
Young Americans in Tokio
Young Americans in Yezo
These books were priced at $1.25